Regular price
$55.98 USD
Sale price
$27.99 USD
Unit price
per
Sale
Sold out
▶ Place Your Order (US Mailing Addresses only)
▶ Receive Confirmation Email with Tracking (within 48 hours of placing the order)
▶ Receive your books in the mail within 7 -10 days
▶ Email author@julietteduncan.com if you have any questions
View full details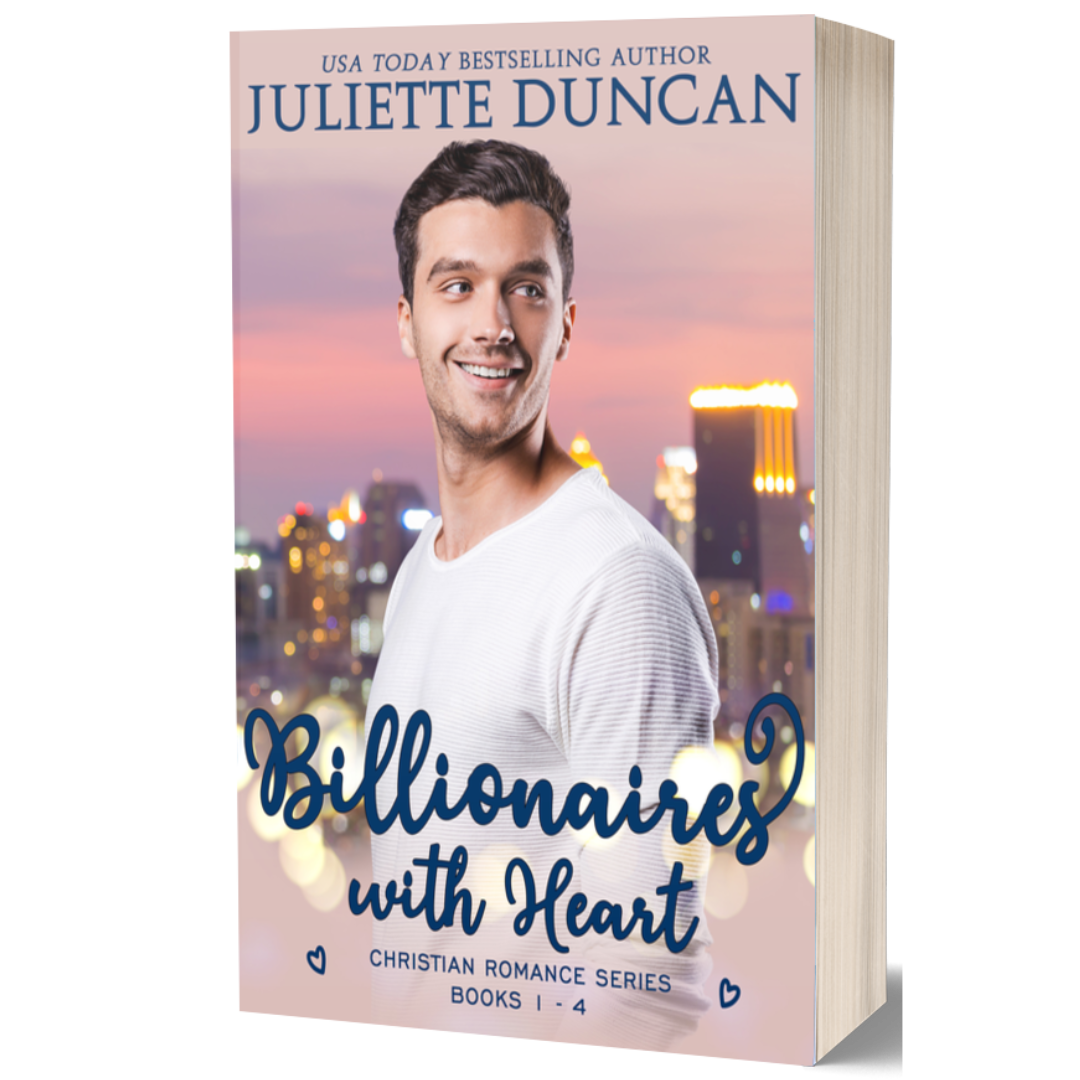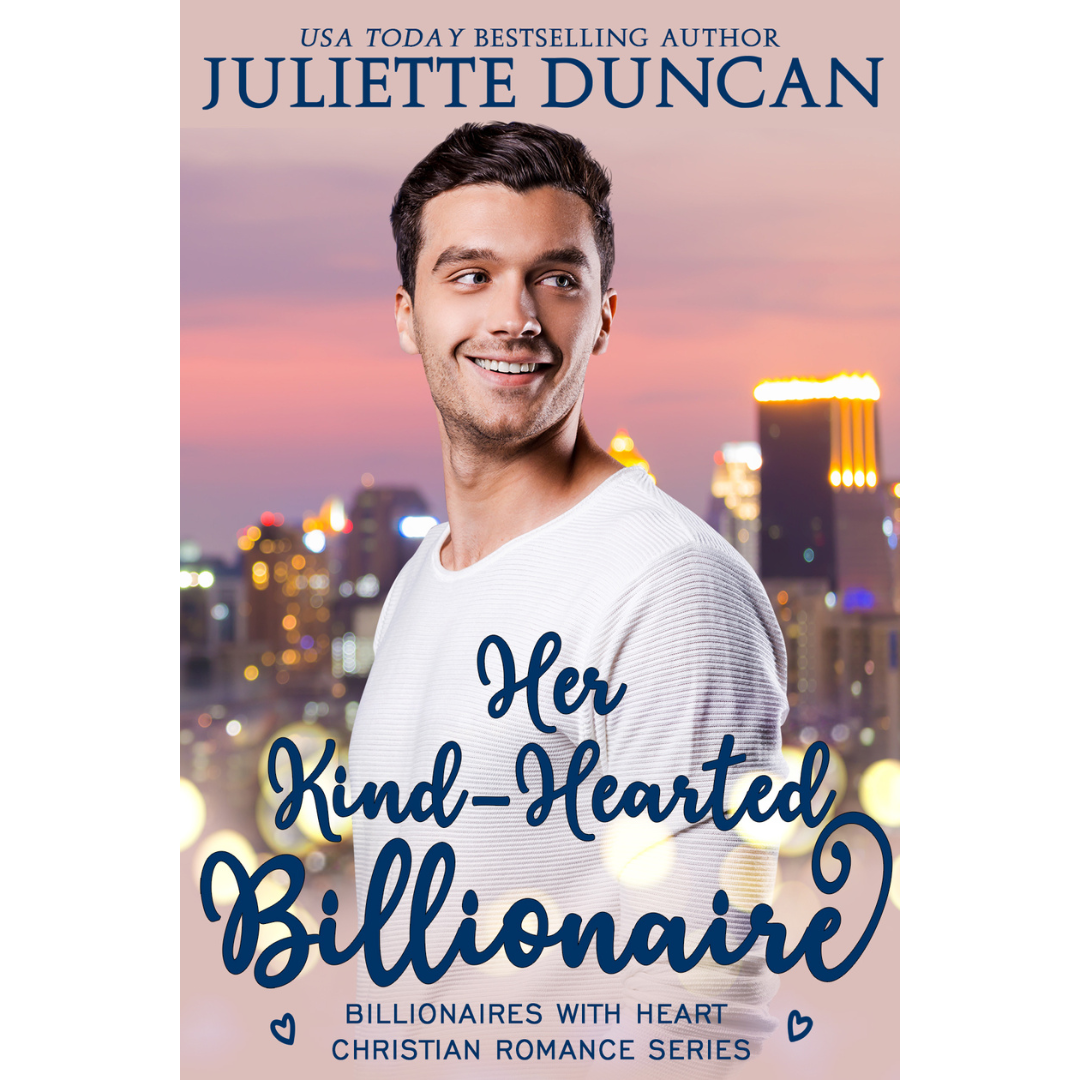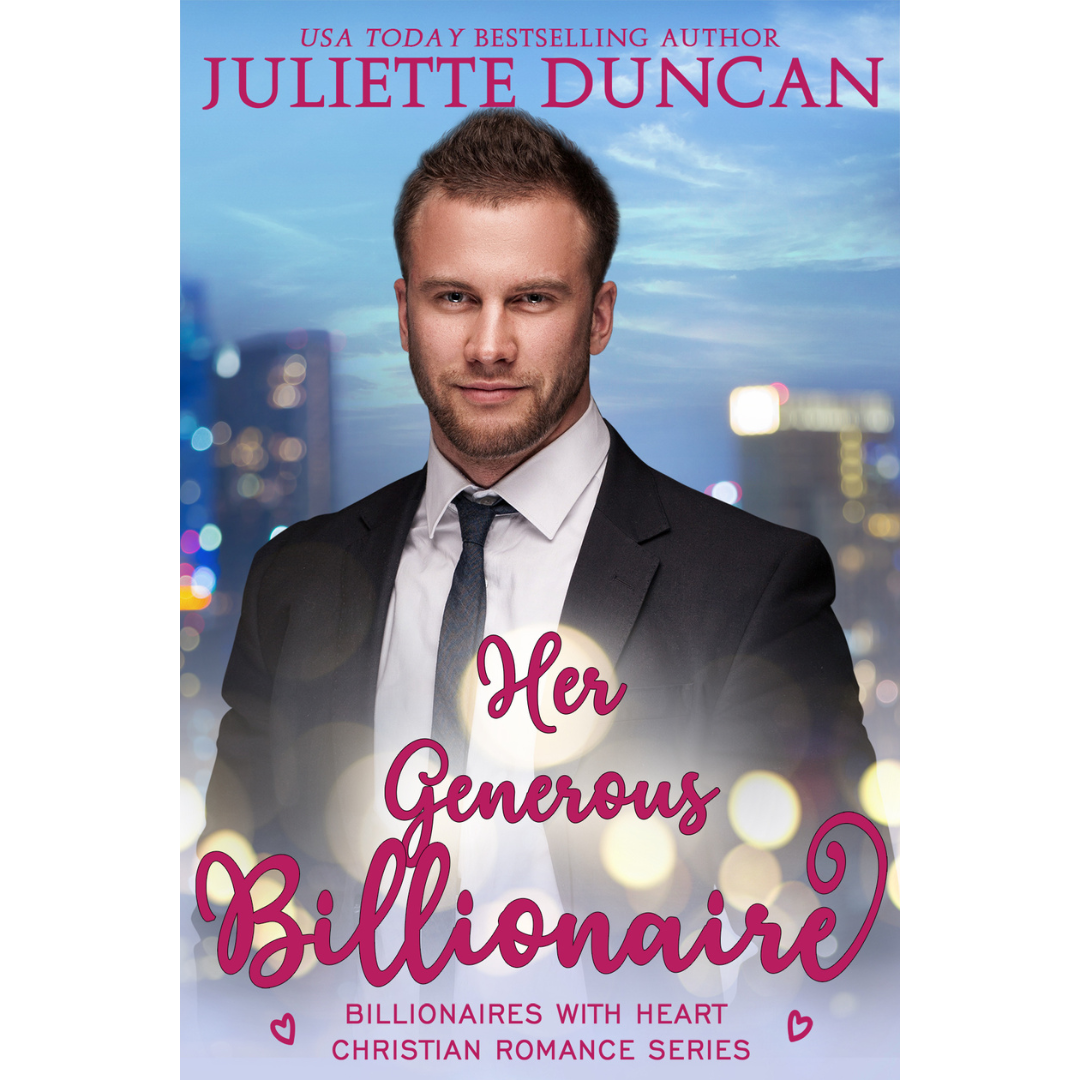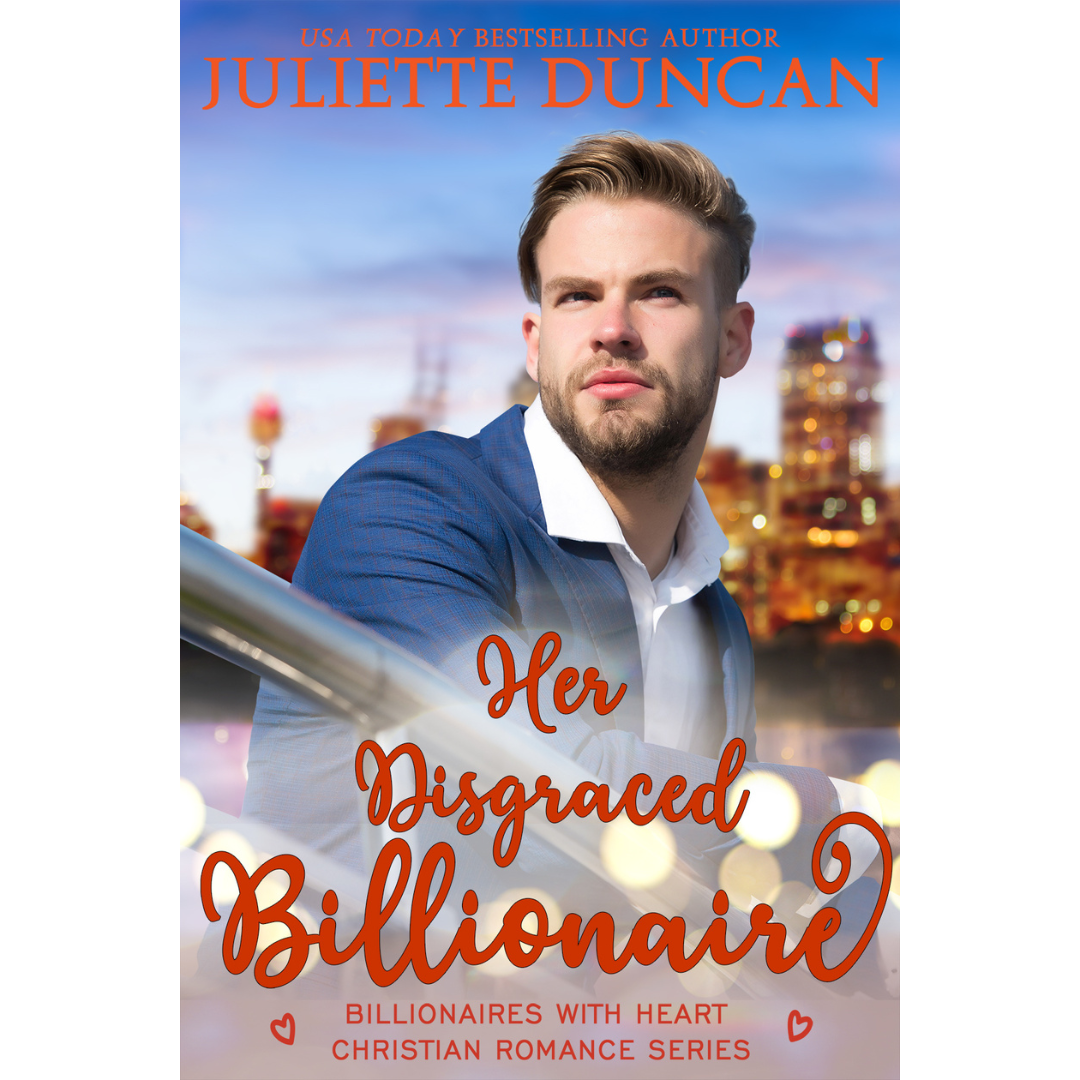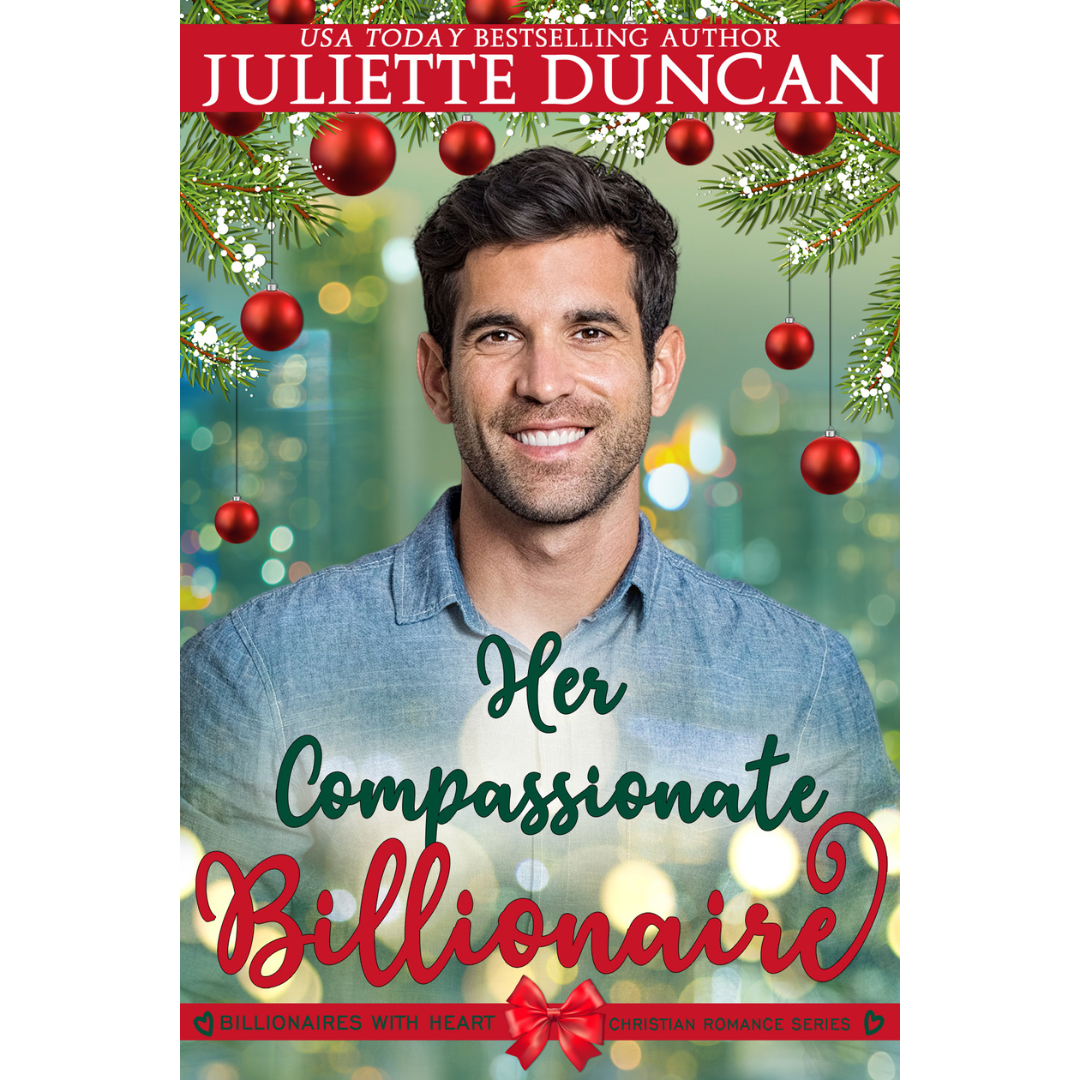 The Billionaires with Heart Christian Romance Series
"These books are not the typical billionaire books, all of these books are God honoring and clean. This set was a joy to read."
Four handsome Billionaires looking for love. But even Billionaires need a Savior…

Four uplifting, stand-alone Christian romances that will leave a smile on your face and a song in your heart. Order the paperback omnibus containing all four books and prepare to be blessed!
Book 1: Her Kind-Hearted Billionaire

A reluctant billionaire, a grieving young woman, and the trip that changes their lives forever…


Nicholas Barrington, weary of his siblings' selfishness in their inherited mining business, is drawn to a Bangkok mission during a church visit and decides tovolunteer.

Meanwhile, Phoebe Halliday, mourning her fiancé Reed's death, embarks on a trip to Southeast Asia with her friend Holly, who's dedicated to helping trafficking victims. In Bangkok, they join a mission aiding rescued children.

There, Nick and Phoebe meet and feel a mutual attraction, but Phoebe struggles with guilt over Reed. Nick soon realizes that even though he's drawn to Phoebe, unless he shares her faith, they have no future other than friendship. But he won't make a fake commitment - not even to snag the girl of his dreams.

Can Phoebe let go of Reed and open her heart to new love,and can Nicholas open his heart to God and find not only new life, but a love he never dreamed existed?

Book 2: Her Generous Billionaire

A grieving billionaire, a devoted solo mother, and a woman determined to sabotage their relationship…


Marcus Alcott has all the money in the world, but it can't bring back his beloved wife, Bree, who died of breast cancer five years earlier. He wonders why God allowed her to die, and doubts he'll ever find true love again.

Tiffany Harris is doing her best to raise her two children following an ugly divorce, working as a carer to make ends meet. One of her clients is a sweet older lady who's confined to a wheelchair. Her son just happens to be Marcus Alcott.

When Marcus needs a date for a charity ball, his mother suggests he takes Tiffany. He laughs at the idea, but when a face from the past appears and offers to go with him, he quickly decides Tiffany is the better option.

What starts as a date of convenience quickly turns into something more, but after a disastrous first marriage, can Marcus let go of Bree and learn to love again?

And can Tiffany learn to trust another man, even if that man has all the money in the world?

Book 3: Her Disgraced Billionaire

A billionaire in jail, a nurse who cares, and the challenge that changes their lives forever...


Mitchell Carmichael is set to receive a billion dollars on his 30th birthday, in the meantime, he's spending his father's fortune on women, booze and drugs. A night out with the famous actress, Kendra McKinnon, changes everything for him when he crashes his car & she's not expected to live. Apart from being charged, her family sues him for everything he's worth.

Jenna Wainwright is the nurse assigned to care for Mitch during his stay in the hospital. She detests the pick-up lines he throws at her, but decides to pray for him and to show him a better way.

When he's released from the hospital, she challenges him to live like a normal person for two months. He thinks she's crazy, but when his father threatens to disinherit him, he has to consider his options.

Can he survive on next to nothing, and can he hold down a job when he's never worked before in his life? Can he change his ways & let God's love rule his life, even when he's sent to jail?

And can Jenna stop herself falling for him when she knows he's completely not her type?

Book 4: Her Compassionate Billionaire

A widowed billionaire with three young children. A replacement nanny who helps change his life…


Since his beloved wife, Larissa, died of a brain tumour five years earlier, Jonathon Montgomery has immersed himself in his project development company because he doesn't know how to handle his grief.

The problem is, he has three young children who also desperately miss their mum. Now they miss him, too.

When the children's nanny resigns two weeks before Christmas, he panics and immediately places a job advertisement for a replacement.

For the first time in her life, Ruth Taylor finds herself alone after her adult son leaves the nest to explore the world. She's made some mistakes in her life, but this time she trusts God to lead her as she applies for the position of nanny to three young children.

As Ruth slowly endears herself to the children and to Jonathon, a Christmas miracle is waiting to happen.

But can Jonathon truly learn to love again? Can he embrace the Christmas spirit and allow God back into his heart? And can a long-lost dream finally come true for Ruth?
What Readers Say About The Billionaires with Heart Series...
⭐⭐⭐⭐⭐

"I was seriously impressed and inspired by this set. Juliette brought the readers closer to God By each story. They truly will give you inspiration to draw closer to Jesus on every level. It is so refreshing to read Christian books like these, clean and heartwarming. So many scriptures intertwined throughout bringing peace and understanding on so many levels. Do yourself a favor and read this series!." Jana G

⭐⭐⭐⭐⭐

"This is a wonderful inspirational set of books. Each of the books are well written and hold your attention. They are all wonderful christian reads and this set provides hours of reading pleasure. These books are not the typical billionaire books, all of these books are God honoring and clean. This set was a joy to read." Ann F

⭐⭐⭐⭐⭐

"I wasn't sure if I wanted to read this book when I first saw it on kindle unlimited. I was totally engrossed from the very beginning when I realized that JULIETTE DUNCAN had woven a beautiful love story while also showing the love of God. It was a clean love story with God at the center. I TOTALLY recommend this book to anyone, but especially Christians looking for a book to read where their own strength would be renewed" Janet