Regular price
$47.97 USD
Sale price
$29.99 USD
Unit price
per
Sale
Sold out
▶ Place Your Order (US Mailing Addresses only)
▶ Receive Confirmation Email with Tracking (within 48 hours of placing the order)
▶ Receive your books in the mail within 7 -10 days
▶ Email author@julietteduncan.com if you have any questions
View full details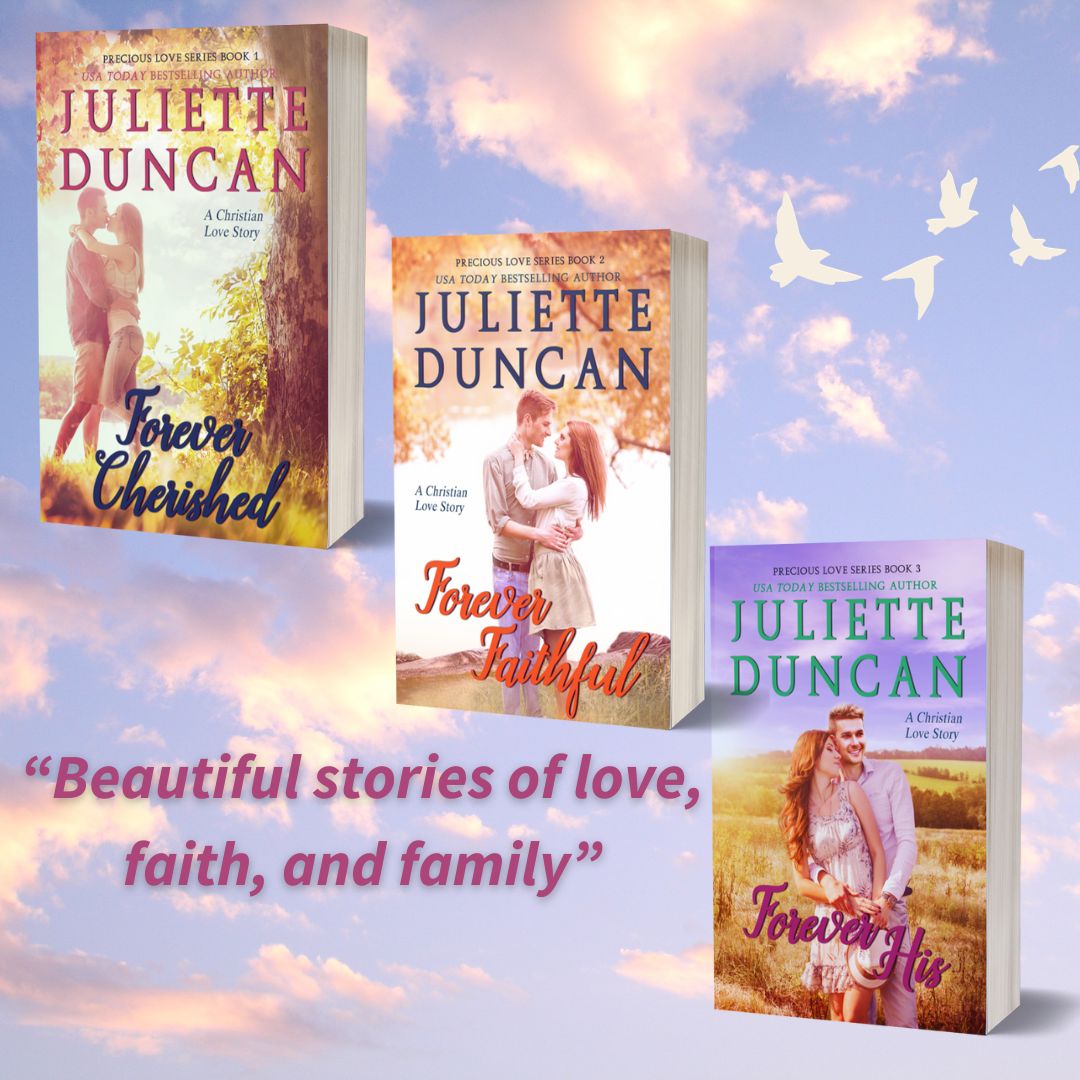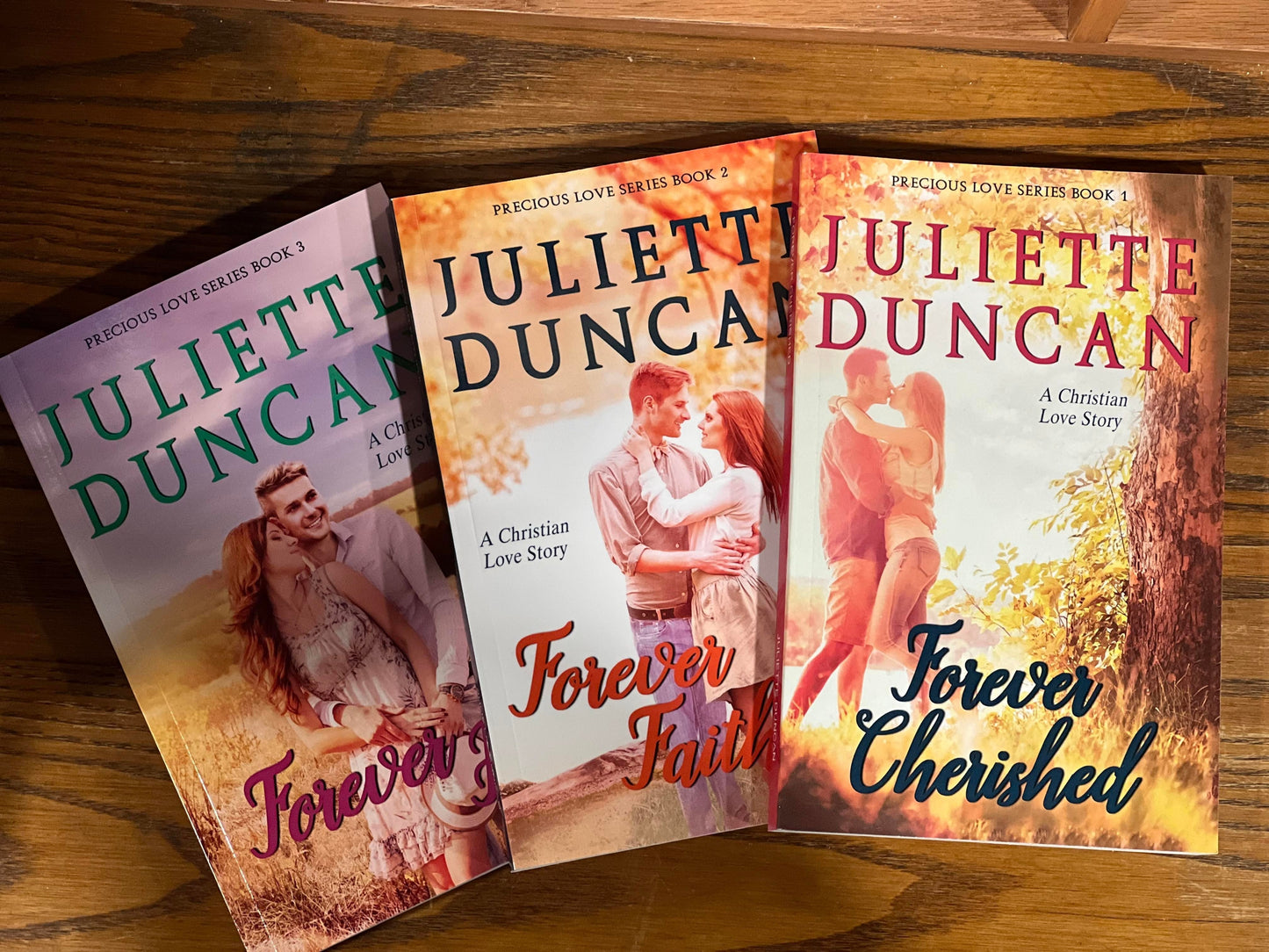 The Precious Love Series
"Fabulous. Best series I've read in some time. Closed 1 book & had the next one ready to read." Amazon reader

The books in the Precious Love Series can be read on their own, but follow on from "The True Love Series".
The Precious Love Series is a set of contemporary Christian romance novels set in sunny Queensland, Australia. If you like charming characters, faith-filled families, and friendships that become something more, then you'll love this set of inspirational stories that will touch your heart and soul.
This set contains 3 individual paperback books.
Book 1: Forever Cherished

Sometimes, the hardest person to love is yourself…




Now Tessa's dream of living in the country is realized, she wants to share her and Ben's blessings with others, but when a sad, lonely woman comes to stay, Tessa starts to think she's bitten off more than she can chew, and has to rely on her faith at every turn.




Leah Maloney is carrying a truck-load of disappointments from the past and has almost given up on life. Her older sister arranges for her to spend time at 'Misty Morn', but Leah is suspicious of her sister's motives.

Unaware of the ramifications, Tessa helps Leah confront her past. She is shocked and sickened by what she discovers.




Convinced that God can bring good out of the most diabolical of circumstances, Tessa trusts Him to work in Leah's life. Can Tessa's prayers and involvement help Leah to not only love herself, but to rekindle the love she thought she'd lost so many years ago?

Book 2: Forever Faithful

One good deed could cost him his life... One error of judgment could cost her true love...




Half a world separates them, but Jayden has never stopped loving Angie, the green-eyed, red-haired girl who captured his heart and led him to the Lord in the hills of Montana when he was only sixteen.

Years later, when Jayden's good deed lands him in a coma he may never wake from, Angie has no choice but to go to him.

But Angie now has a boyfriend. A boyfriend who doesn't understand her special friendship with Jayden. When he arrives on Jayden's grandparents' doorstep unannounced, she has to choose – Cole or Jayden.

She can't have both.

After all they'd been through with Jayden in his younger years, his parents, Ben and Tessa, are struggling to understand how God could allow this to happen. He wouldn't let Jayden die. Would He?

And can they forgive the youth who did this to Jayden? As Christians, they should. But can they?

Book 3: Forever His

A honeymoon made in heaven, a family fractured by fraud…




Following their picturesque beach wedding in Hawaii, Jayden and Angie embark on a globe-trotting honeymoon, exploring wonders from the Himalayas to the Greek Islands. Amidst the adventure, Angie uncovers Jayden's risk-taking nature, challenging her to adapt or confront him. Post-honeymoon, they grapple with where to settle: Angie prefers Hunter's Hollow, Montana, while Jayden leans towards Maryvale, Queensland, leading them to seek God's direction for their future.




Back home, trouble looms for Jayden's father, Ben, entangled in a fraud scandal at work. Despite his upright nature, Ben's involvement threatens their family property, 'Misty Morn', and risks his mental well-being. His wife, Tessa, is deeply concerned about Ben potentially relapsing into depression. In this trying time, their steadfast faith in God is their anchor, as they hope for a resolution that preserves their home and Ben's freedom.