Regular price
$55.98 USD
Sale price
$27.99 USD
Unit price
per
Sale
Sold out
▶ Place Your Order (US Mailing Addresses only)
▶ Receive Confirmation Email with Tracking (within 48 hours of placing the order)
▶ Receive your books in the mail within 7 -10 days
▶ Email author@julietteduncan.com if you have any questions
View full details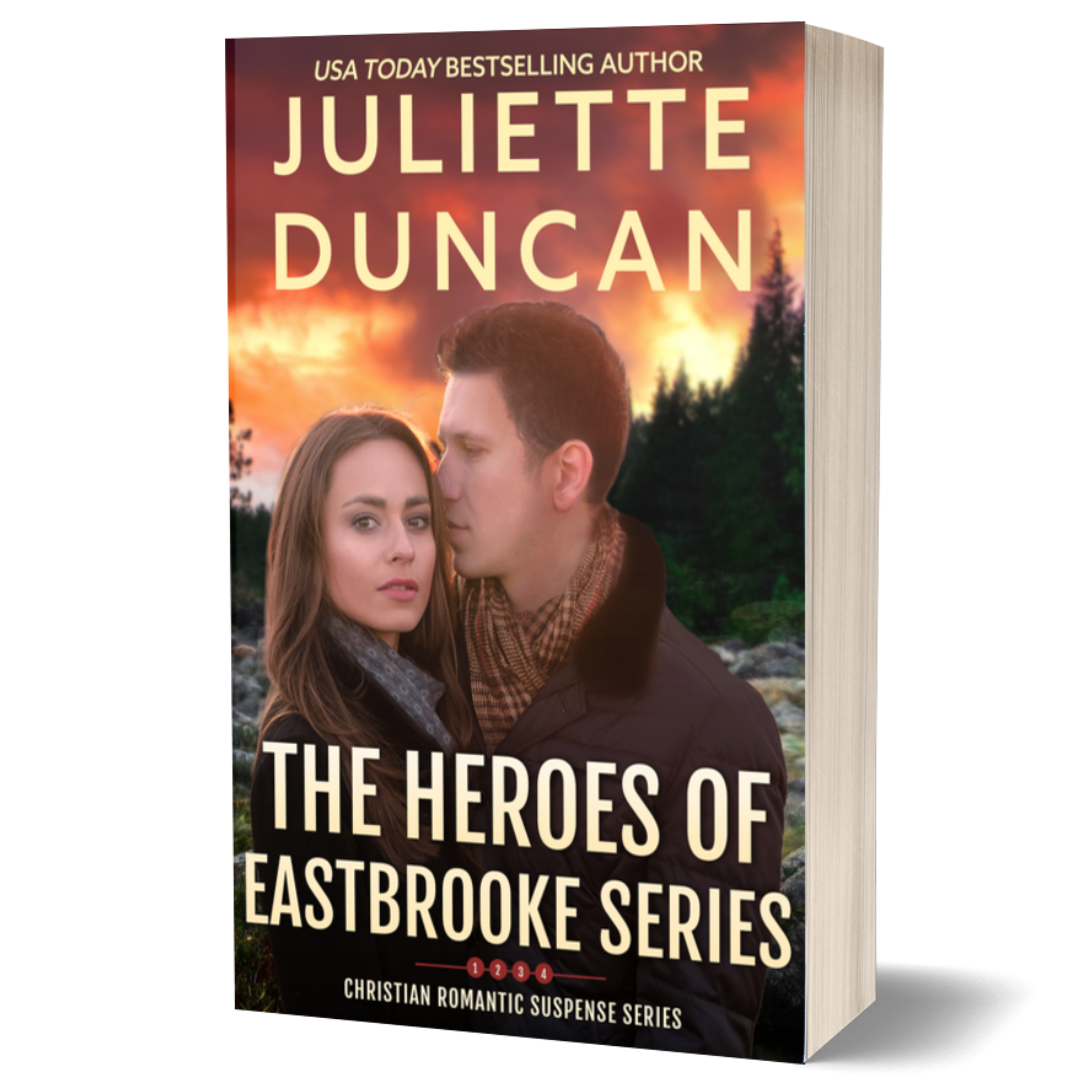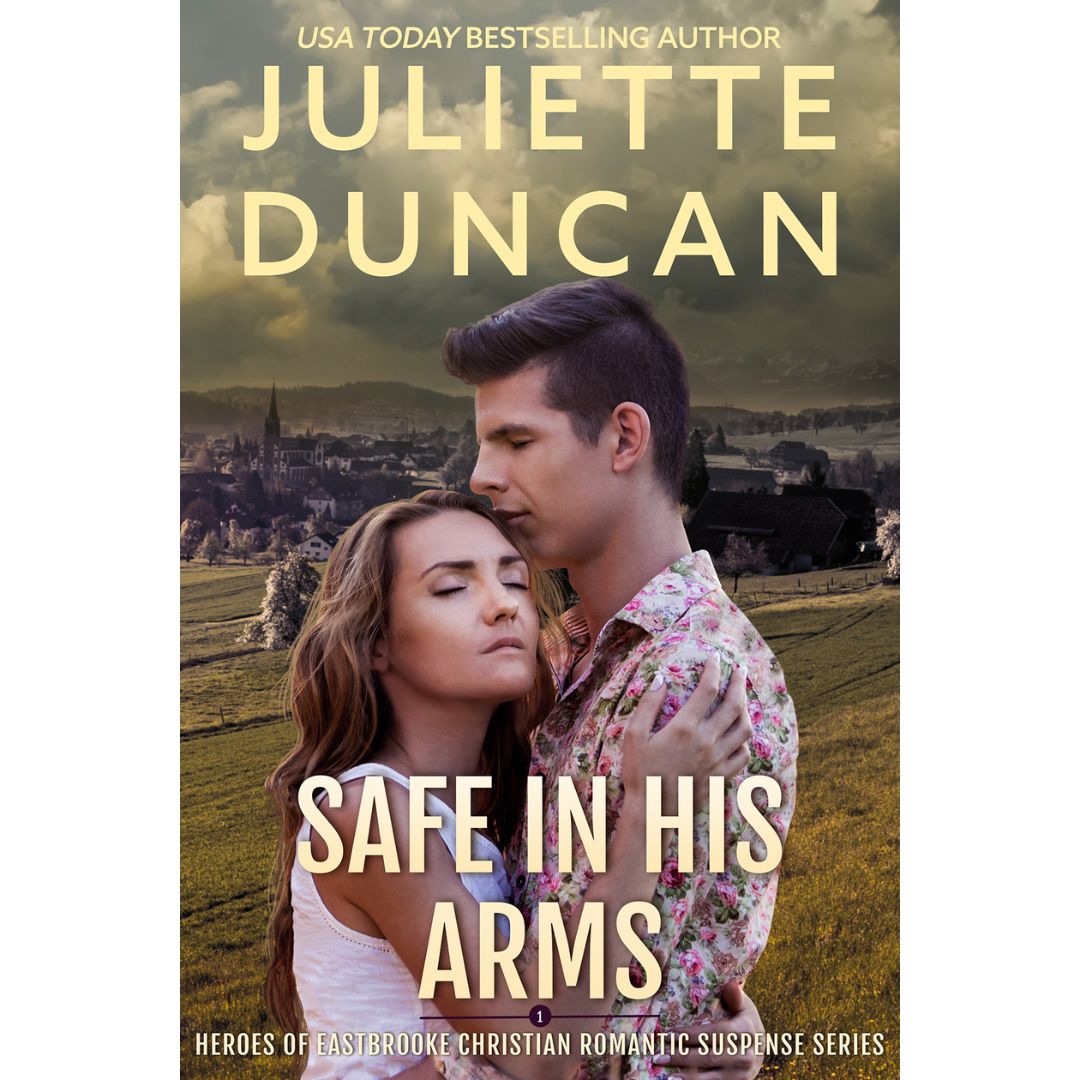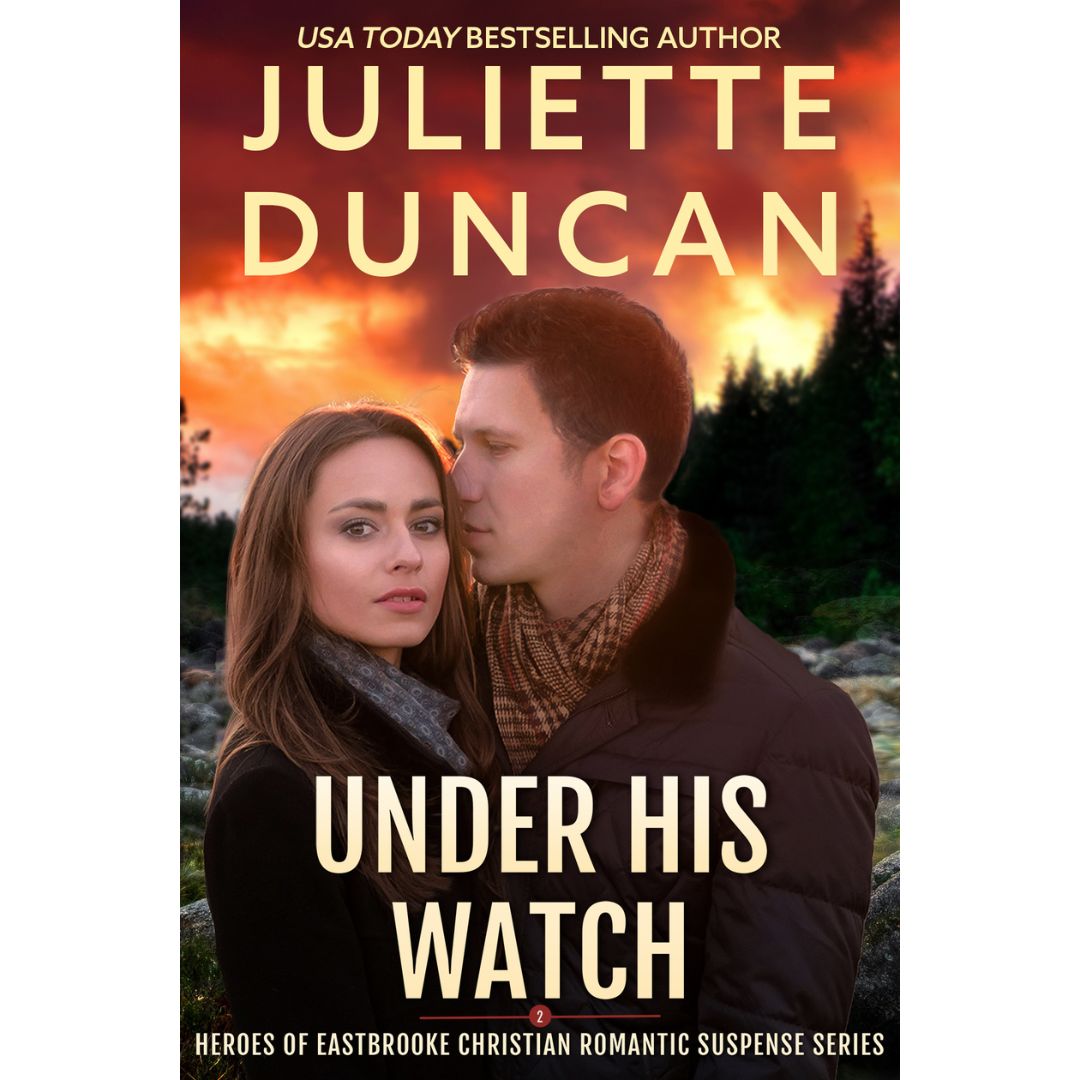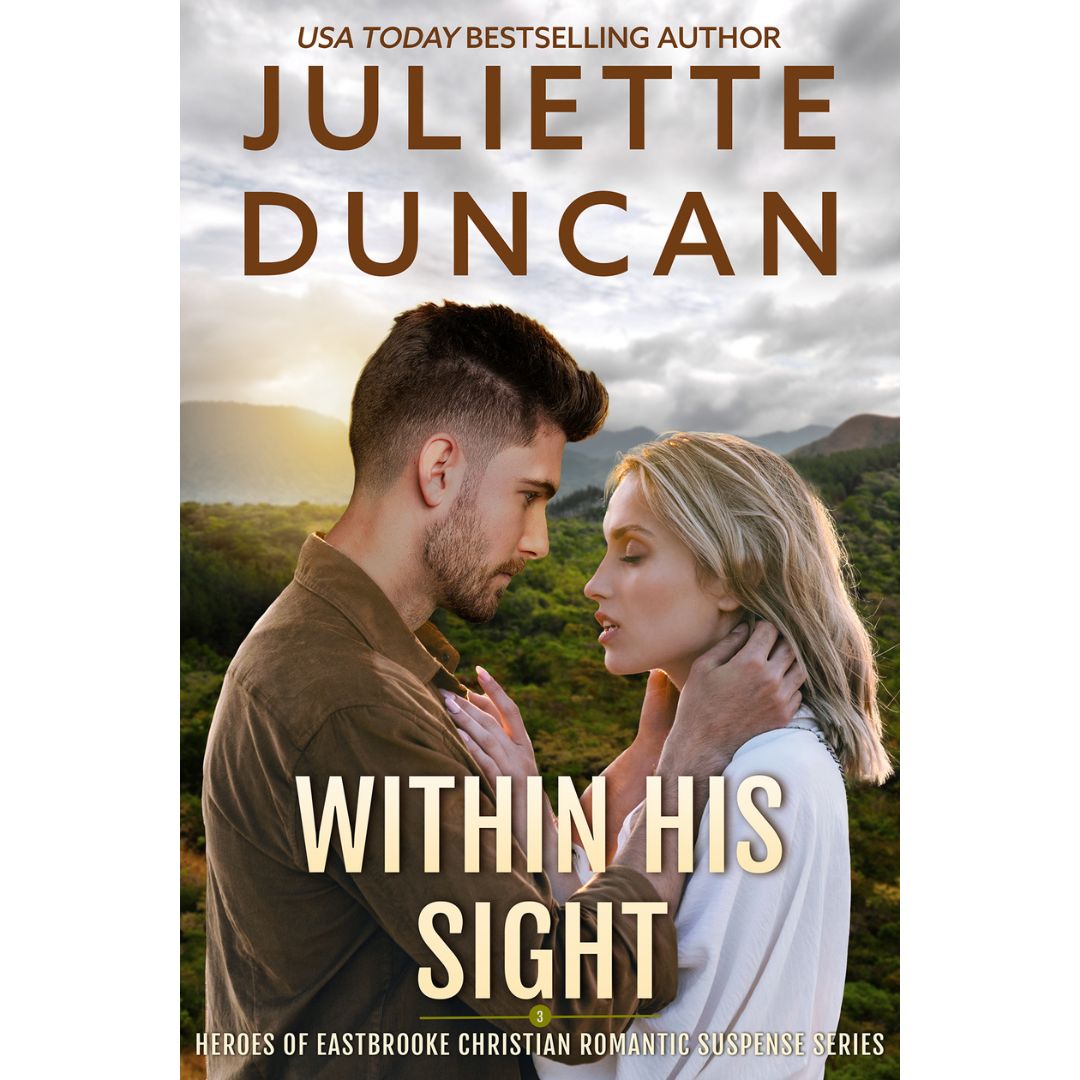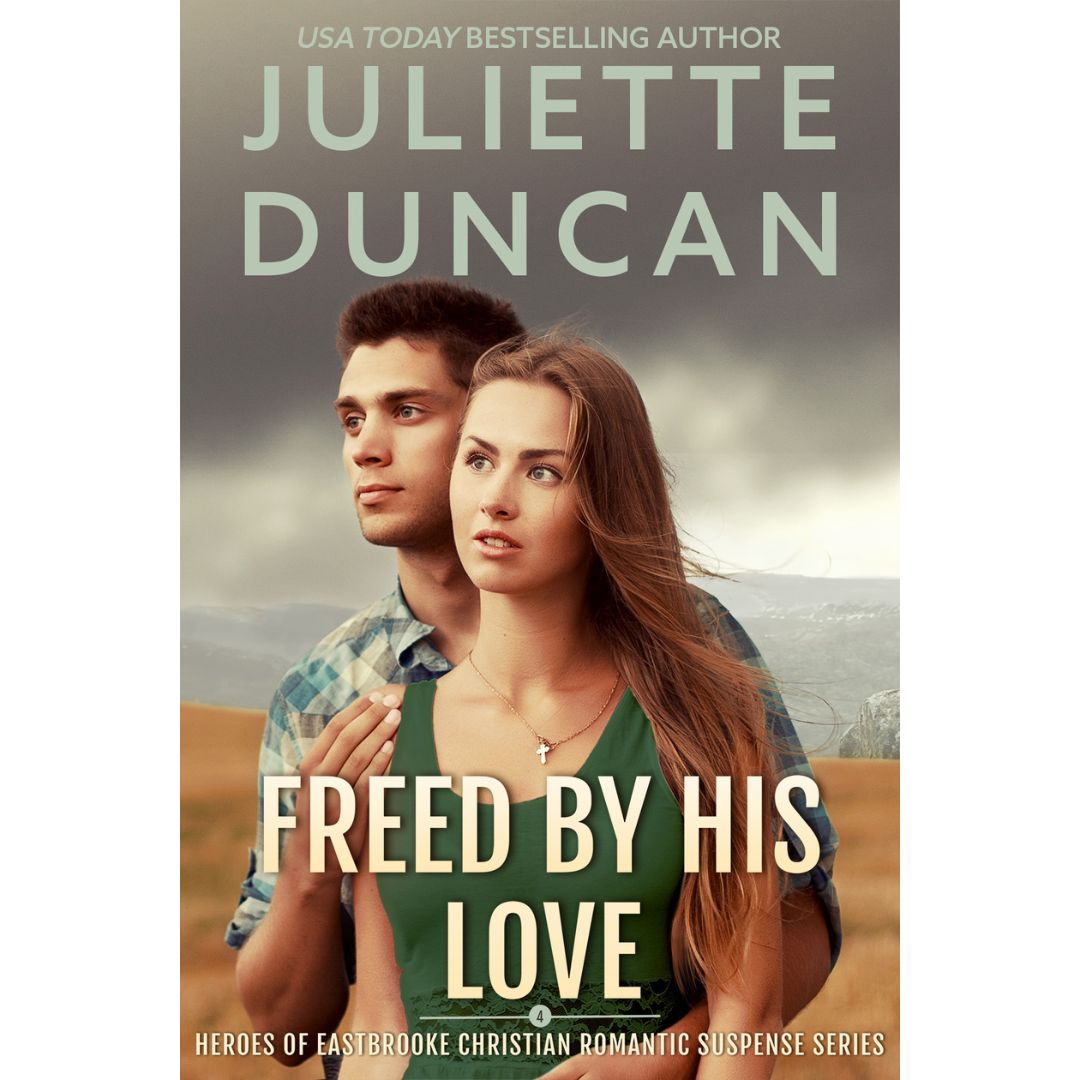 The Heroes of Eastbrooke Christian Romantic Suspense Series
Clean, pulse-pounding, Christian Romantic Suspense.
After twenty years, mystery still surrounds the death of Police Chief George Carlton.
His sons believe he was murdered.

And now, strange things are happening in the picturesque mountainside village of Eastbrooke.

A teen is kidnapped.
A body washes up in the river outside of town.
A cult takes up residence in the mountains.

The mountain pass offers a perfect smuggling route to the coast. Not just for drugs, but for weapons and human trafficking.

Could these happenings all be connected to their father's murder?

As Max, Rob, Joseph and Eli Carlton each face their own challenges, they must learn to trust in the God their father served and protect the women they've come to love while uncovering the mystery of their father's death.

From USA Today bestselling author Juliette Duncan comes this page-turning, faith-filled romantic suspense series that will leave you guessing. For fans of Dee Henderson.
Order the paperback omnibus containing all 4 books, and prepare for a series that will not only captivate but will 'touch your heart and soul'.
"These stories are excellent! Each one has a story of a different family member. They tell of God's love in our lives and how he is with us." Amazon Reviewer"I highly recommend the Heroes of Eastbrooke series to readers of clean and of Christian romantic suspense and to readers of clean romance." Amazon Reviewer
Book 1: Safe in His Arms

SOME SAY HE'S HIDING. HE SAYS HE'S SURVIVING


Outdoor instructor Max Carlton lives a peaceful and tranquil life in the mountains. He's not hiding, he simply loves the freedom wilderness living brings. The downside is that sometimes he has to deal with people.

Including Junia Fox, the attractive case worker who arrives with a group of troubled teens for a week-long retreat.

City dwelling Junia prays the retreat will be just what the teens need. She knows what it's like to be misjudged and shunned. Plus, the week-long escape from the city might do her good as well.

It's a pity the ruggedly handsome instructor is so offhand and rude.


Danger lurks in the mountains.

Despite thir dislike for each other, Max and Junia are thrown together in a fight for survival when one of the teens
places the whole group in danger. Can they get past their differences and learn to trust each other? Can Max protect Junia—and her carefully guarded heart?
Or will his beloved mountains ultimately become their death trap?

Book 2: Under His Watch

HE'LL STOP AT NOTHING TO PROTECT THOSE HE LOVES. NOTHING.

When a body washes up in the river outside of Eastbrooke, Deputy Police Chief Rob Carlton suspects foul play.


The mountains near Eastbrooke run to the coast and offer a perfect smuggling route. Not just for drugs, but for weapons and human trafficking.


Emma MacGowan, raised by missionary parents, is a primary school teacher and new to town. She might be lonely, but she's steering clear of the handsome cop with a reputation for dating and dumping.


Until she witnesses a murder.


Then she has no choice but to trust him. Her life depends on it. And he needs her alive to convict the smugglers.

Thrust together in a situation neither foresaw, can they get past their prejudices and even learn to like each other. Perhaps even fall in love?


Can he prove to her he's not the rogue she thought he was?

Book 3: Within His Sight

SHE'LL STOP AT NOTHING TO GET A STORY. HE'LL SCALE THE HIGHEST MOUNTAIN TO RESCUE HER.



When Holly Davidson, an up-and-coming city journalist, gets whiff of a cult in the mountains near Eastbrooke, she puts her life in jeopardy to investigate it. Donning old-fashioned gear to blend in, she soon discovers her hunch was right - it's not the innocent group the members are portraying to the locals of the sleepy, picturesque town and something sinister is going on.


Joseph Carlton heads up the Eastbrooke Mountain Rescue team but is restless as he struggles with a calling to enter the ministry. All four Carlton brothers work in manly, heroic jobs.


How can he break with tradition?


When he meets Holly on a routine mountain check, he senses she's in danger and vows to watch over the attractive young woman.


Having both been hurt in previous relationships, neither are interested in starting another despite the obvious chemistry between them, but when her life is in danger and they're thrust together in a fight for survival, will they get past that hurt and learn to love again?

Book 4: Freed By His Love

HE'S DRIVEN AND DETERMINED. SHE'S BROKEN AND SCARED.

All his life, Eli Carlton has wanted to find his father's killer and bring whoever is responsible to justice. Now he's in the counter-terrorism squad, he's getting closer to discovering the truth.But although he won't admit it, he's lonely.

All three of his brothers are happily married, but how can he expect anyone to be with him when he's on the tail of international terrorists?

Young, beautiful, and naïve, Makayla Hausbaden is still coming to terms with being duped by her cousins whom she thought were genuine Christians. Nothing was further from the truth.

Now she doesn't know who she can trust.

When she hitches a ride back to Melbourne with handsome Eli Carlton, the youngest of the Carlton clan, she immediately falls for him, but when they join forces to hunt down the White league, her family ties put her life in danger.

Will Eli save her from the White League's clutches, and will he finally admit his need of God and let go of his bitterness?
What Readers Say About The Heroes of Eastbrooke Series...
⭐⭐⭐⭐⭐

"I love Juliette Duncan's writing. She has interesting characters and character interaction. I liked that this series was about 4 brothers and how the series all tied together. I started reading the first book and I just couldn't put it down, but I had to keep reading. Great writing." Suzy Q

⭐⭐⭐⭐⭐

"Love this series! Once again Juliette Duncan has given her readers a captivating set of books! She includes adventure, drama, entertaining characters, intriguing storylines, and clean romance. Most importantly she brings the Gospel to her readers and gives hope to those that may not have ever had it! Thank you so much Juliette! Try it you'll love it!!!!" Phyl

⭐⭐⭐⭐⭐

"I thoroughly enjoyed The Heroes of Eastbrooke Series! Getting to know the Carlton brothers, their mom and the special ladies that God had for each of them, was great. If you are looking for suspense and intrigue, inspiration and romance, this is the right series for you. Juliette Duncan is gifted to tell a story that keeps you coming back for more." Rusty H