Regular price
$63.96 USD
Sale price
$29.99 USD
Unit price
per
Sale
Sold out
▶ Place Your Order (US Mailing Addresses only)
▶ Receive Confirmation Email with Tracking (within 48 hours of placing the order)
▶ Receive your books in the mail within 7 -10 days
▶ Email author@julietteduncan.com if you have any questions
View full details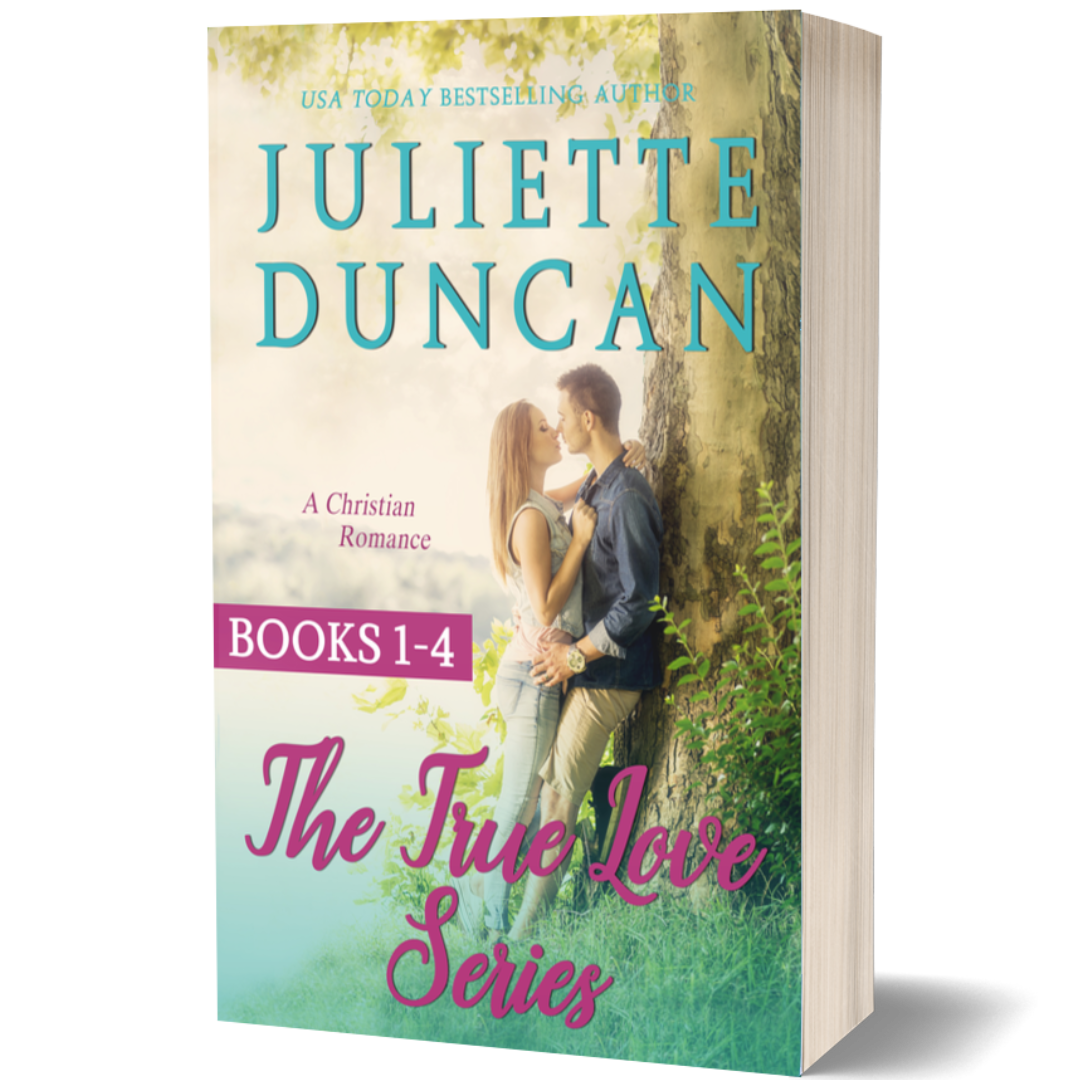 The True Love Series
A tender love story that quickly grows into an engaging faith-filled family saga.

Set in sunny Queensland, Australia, The True Love Love Series is a tale of love, redemption, and second chances that will captivate your heart. If you're a fan of heartwarming characters, faith-filled families, and friendships that become something more, these books are your next must-read.

This bundle contains all 4 books in the series one paperback omnibus.
Book 1: Tender Love

When puppy class leads to romance, can she love both the man and the angsty teen who comes with him?

After a devastating breakup, veterinarian Tessa Scott is ready for a fresh start in life and love. When she meets kind-hearted Ben Williams at puppy class, there's an instant connection. But Ben comes with baggage—an angsty teenage son and lingering pain over his ex-wife's betrayal. As they grow closer, Tessa wonders if she's ready to step into the role of instant mother and wife.

Ben knows she's the woman God intended for him, if only she can move past her doubts, but just when it seems they may have a future together, ghosts from his past threaten all he holds dear, including his relationship with Tessa.

With faith and trust in God, can Ben and Tessa's tender new love withstand the storms of life? Will Jayden accept Tessa in his father's life? And will Ben find healing from his painful divorce?

Book 2: Tested Love

A new marriage, a ready-made family, and a face from the past…

No sooner do Ben and Tessa return from their honeymoon in Fiji than Ben's teenage son, Jayden, reverts to his old, troubling habits. The honeymoon is definitely over.

Tessa desperately wants to be a good mother, but Ben's parenting style causes her a great deal of stress. Part of her wants to coddle Jayden, another wants to support Ben's wishes. She can't do both.

As she frets over marrying Ben and taking on so much responsibility, a new challenge arises. How will Tessa and Ben cope when their worst fear is realized?

Will they have the strength to power through and hold onto God's graces or will the turmoil be enough to make their faith falter? Can this ready-made family remain together, especially now that their worst fear has come to fruition?

Book 3: Tormented Love

A missing teenager… a marriage in turmoil


When Ben and Tessa return from their holiday to New Zealand without Jayden, his absence takes an enormous toll on them both. Tessa becomes concerned that Ben will slip back into depression.

They should trust God to bring Jayden home, but reminders of him are everywhere. It's next to impossible.


Tessa has an idea she believes is from God. This idea leads her and Ben half-way around the world. Although they meet some wonderful Christians who help them in their relationship with each other and with God, this journey doesn't bring Jayden home.




Meanwhile, Jayden thinks life will be better with his mother, but when reality sets in, he realizes he's made a mistake.

A mistake that could ruin his life.

He wants to go home, but how can he leave his mother?

Book 4: Triumphant Love

Now these three remain: faith, hope and love. But the greatest of these is love…


At long last, a letter arrives from Jayden. Ben and Tessa are ecstatic and hopeful that their son will soon be home.

But when they discover he has a girlfriend, that hope is quickly dashed. He's smitten with Angela Morgan, and they fear he might never return. All they can do is pray.


Meanwhile, after making the difficult decision to leave his mother, Jayden attaches himself to Angela's family, but he neglects to tell them he's in America illegally.

He starts attending a Bible Study run by Angela's youth group, but before he makes a decision to follow God, Jayden needs proof that God is real.

As his heart slowly opens, Jayden faces the hardest decision of his life. If he decides to follow God, he'll have to come clean and tell Angela the truth about himself, but if he does, will he lose her?

Can he give up his first love for an even greater love?
What Readers Say About The True Love Series...
⭐⭐⭐⭐⭐

"Outstanding. I felt like a friend of this family. I enjoyed their personal relationships with the Lord and their growth through the challenges of life, their truthfulness about their feelings, doubts, and their struggles. My heart wept, rejoiced and laughed with these very real characters." Joann

⭐⭐⭐⭐⭐

"Awseome series! Heartwarming and exciting. A series with characters that capture your heart. Faith, laughter, sadness, despair etc, catches all emotions. I'm sad at the end of these books, because I wanted more!" Reader

⭐⭐⭐⭐⭐

"I have read almost all your books. I love reading them because of the Christian words from the Bible and the triumphs of the characters. So much violence in the world it's good reading how to deal with these tragedies with God's help and grace. Thank you!" Reader